Mors is a refreshing non-carbonated soft drink prepared from berries, mainly from lingonberry and cranberry, and sometimes blueberries, strawberries or raspberries. This drink is loved across all of Russia and you will see it served at just about any restaurant and sold at just about every supermarket there.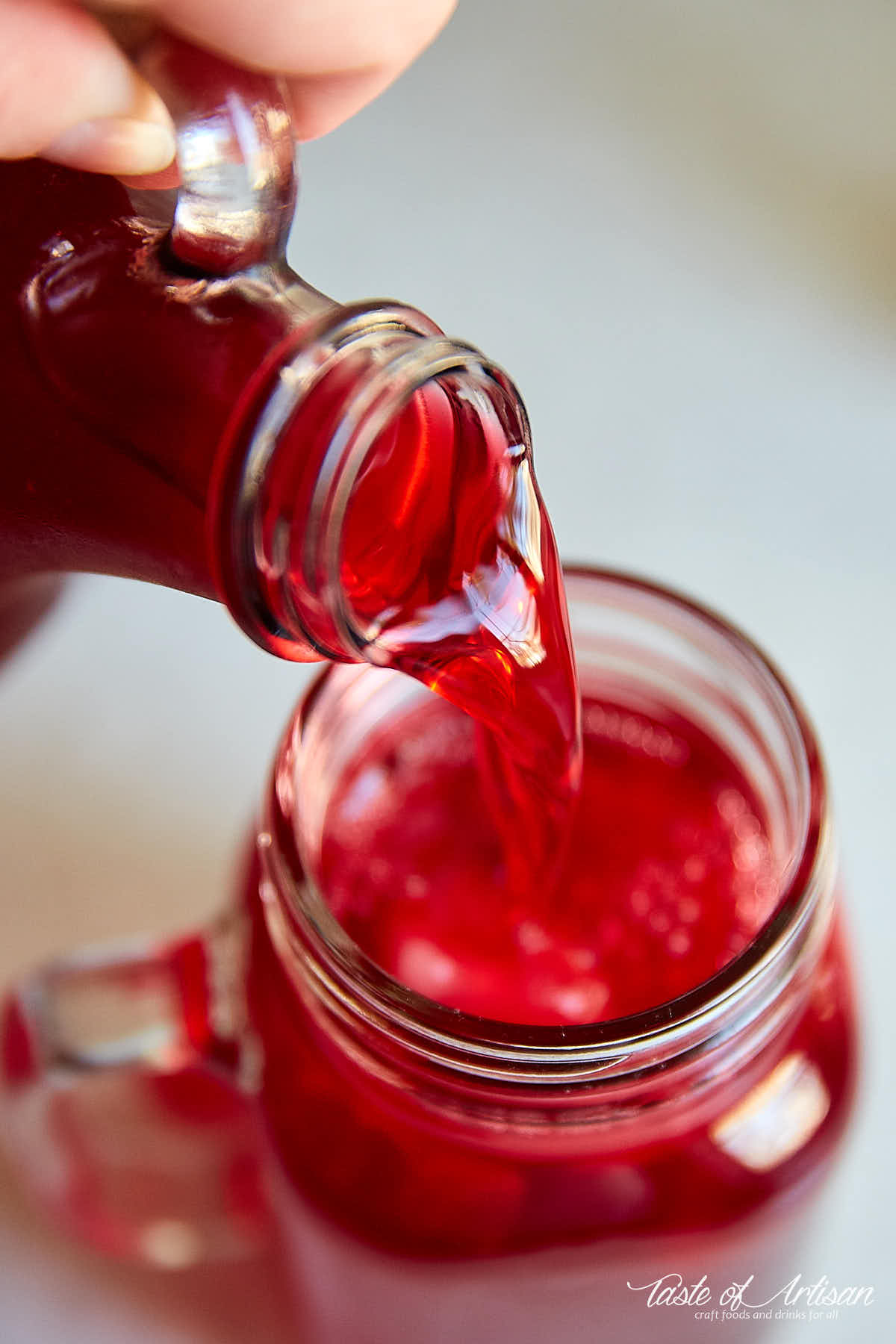 From one place to another mors tastes a little different as every maker seems to have own secret recipe. It can be sweet, sometimes almost too sweet, or it can be barely sweet. Some mors makers use sugar as a sweetener, some choose to use honey. Depending on how much water you add and how long you boil the cranberries, it can have a nice full body, or it can be quite thin and light. What type of cranberries you use also imparts own characteristic taste.
What excites me the most about this drink is its health benefits. Some drink mors on a regular basis for daily detoxification as cranberries are known to be effective at opening detoxification pathways. Some drink it to fight cellulite, while others believe it's good for weight loss when consumed in moderation.
Making mors at home is quite simple. Start with rinsing cranberries then smashing them with a wooden sauerkraut stomper. Dump the resulting cranberry mass into cheesecloth and squeeze the juice out into a non-oxidizing container. The juice will be mixed into mors later.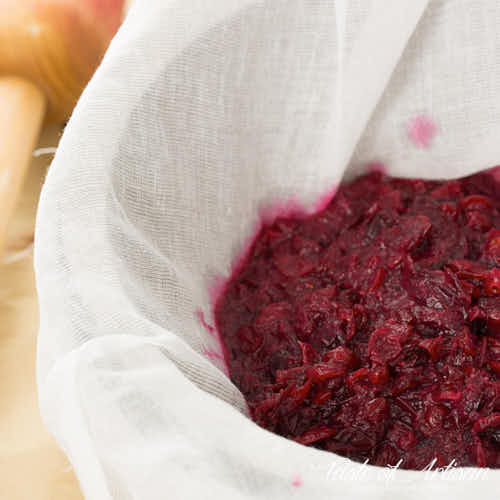 To make mors, you can use regular North American cranberries.  If you happen to live near a European grocery store, try European wild cranberries. They are smaller in size, but yield about the same amount of juice. I find their taste slightly more intense and pronounced and a bit more tart. Both are great for making mors but taste slightly differently. The juice from European wild cranberries looks a bit brighter too.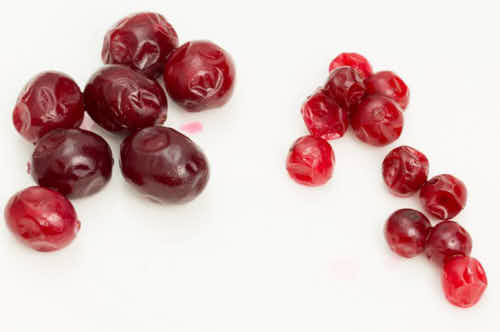 Now, take the cranberry cake out from the cheesecloth and place into a big pot and add sugar and water. Stir briskly. Bring to a boil and cook for 5 minutes to achieve a nice body, then remove from heat and let cool. Letting it boil for about 5 minutes make cranberry tartness more subdued, and gives the drink more body and mouth feel. This process will allow the remaining juices and nutrients to get extracted from the cake.
Once the liquid has cooled down to about a room temperature, pour it into a one-gallon glass jar or a beverage dispenser fitted with a funnel and lined with two layers of cheesecloth. The cheesecloth will filter out cranberry bits and pieces which you don't want in mors. Then add the juice, refrigerate and enjoy. It's as simple as that.
This recipe produces mors with a medium body that is not overly sweet but sweet enough. If you like sweet drinks, drink it straight. It's tastes great. If you want your drink even less sweet, mix it 50/50 with plain or carbonated water.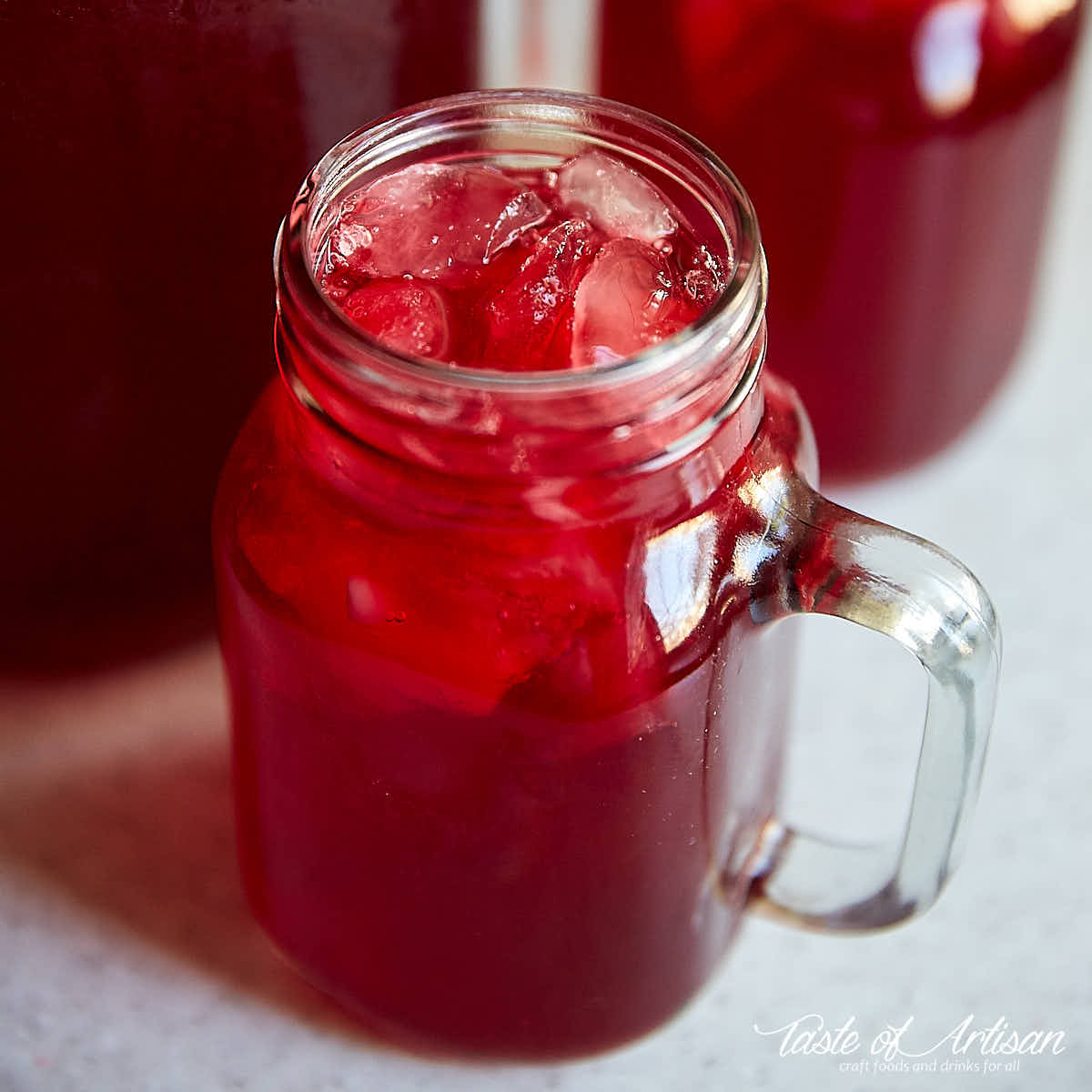 Mors in Russia is typically served chilled without ice. That's not to say that adding some ice is a bad idea. I think ice makes mors taste even more refreshing.
While you can serve mors as any other soft drink, you can also use it to make cocktails, especially those that require cranberry juice.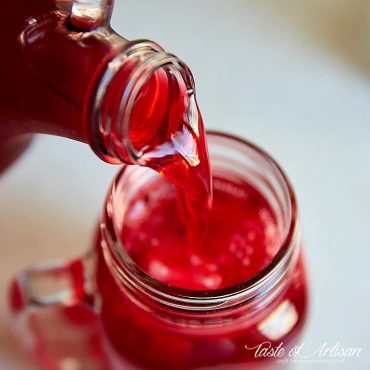 Ingredients
2

lbs

cranberries

about 900 g, fresh or frozen

2

cups

sugar

about 500 g

1

gallon

water

about 4 liters
Instructions
Rinse the cranberries and drain.

Place the smashed cranberries in cheesecloth and squeeze the juice out into a non-oxidizing container.

Take the cranberry cake out of the cheesecloth and place into a big pot, then add the sugar and the water and stir.

Bring to a boil and cook for 5 minutes, then remove from the heat and let cool down.

Pour through a couple of layers of cheesecloth into a gallon container fitted with a funnel. Add the juice.

Place in a fridge and let chill completely before serving.
Nutrition
Calories:
123
kcal
|
Carbohydrates:
32
g
|
Protein:
1
g
|
Fat:
1
g
|
Saturated Fat:
1
g
|
Sodium:
13
mg
|
Potassium:
48
mg
|
Fiber:
3
g
|
Sugar:
27
g
|
Vitamin A:
35
IU
|
Vitamin C:
7.5
mg
|
Calcium:
12
mg
|
Iron:
0.2
mg