This gluten-free carrot cake has a lighter composition compared to traditional carrot cakes and is noticeably less dense. Still, similar to many traditional carrot cakes, it's very, very moist. In our family, this is THE carrot cake recipe. Although we have several really good ones we use this one more often than the others we have.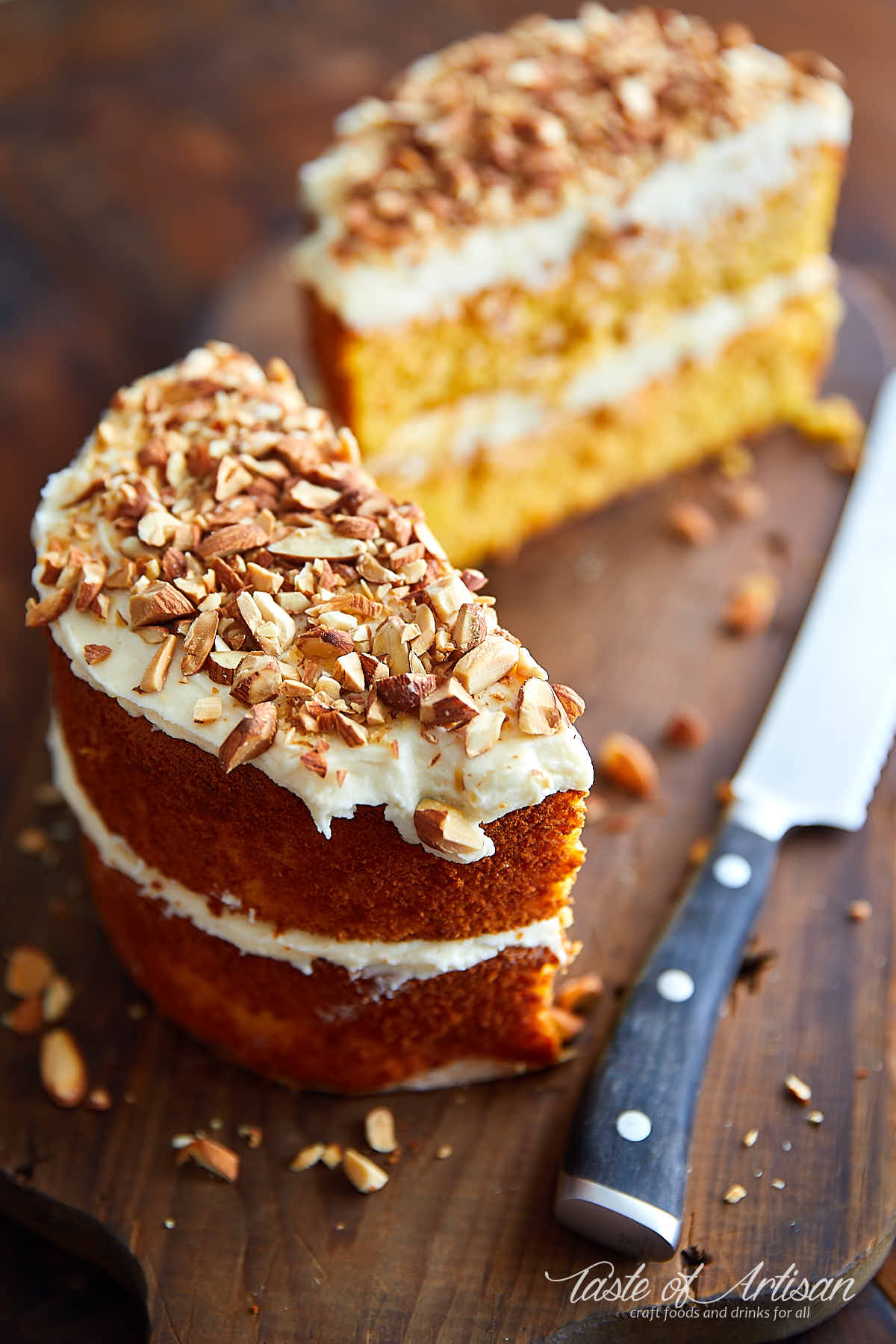 In our family, we are a little obsessed with carrot cakes and make them all year round, not just on holidays like Easter. This cake, in particular, is so easy to make and is so forgiving that it's usually on the top of our list when thinking of a dessert for when company comes over.
If you want to make this cake a simple coffee cake, you totally can. Bake it in a single 8-10" cake pan, let it cool, dust with powdered sugar, slice and enjoy. It makes a perfect gluten-free carrot coffee cake - light, tasty and unassuming.
Now, if you want to indulge a little and make it a real dessert, bake it in two layers and layer it with cream cheese frosting. Then add some coarsely chopped roasted almonds on top. Just looking at it will make your mouth water.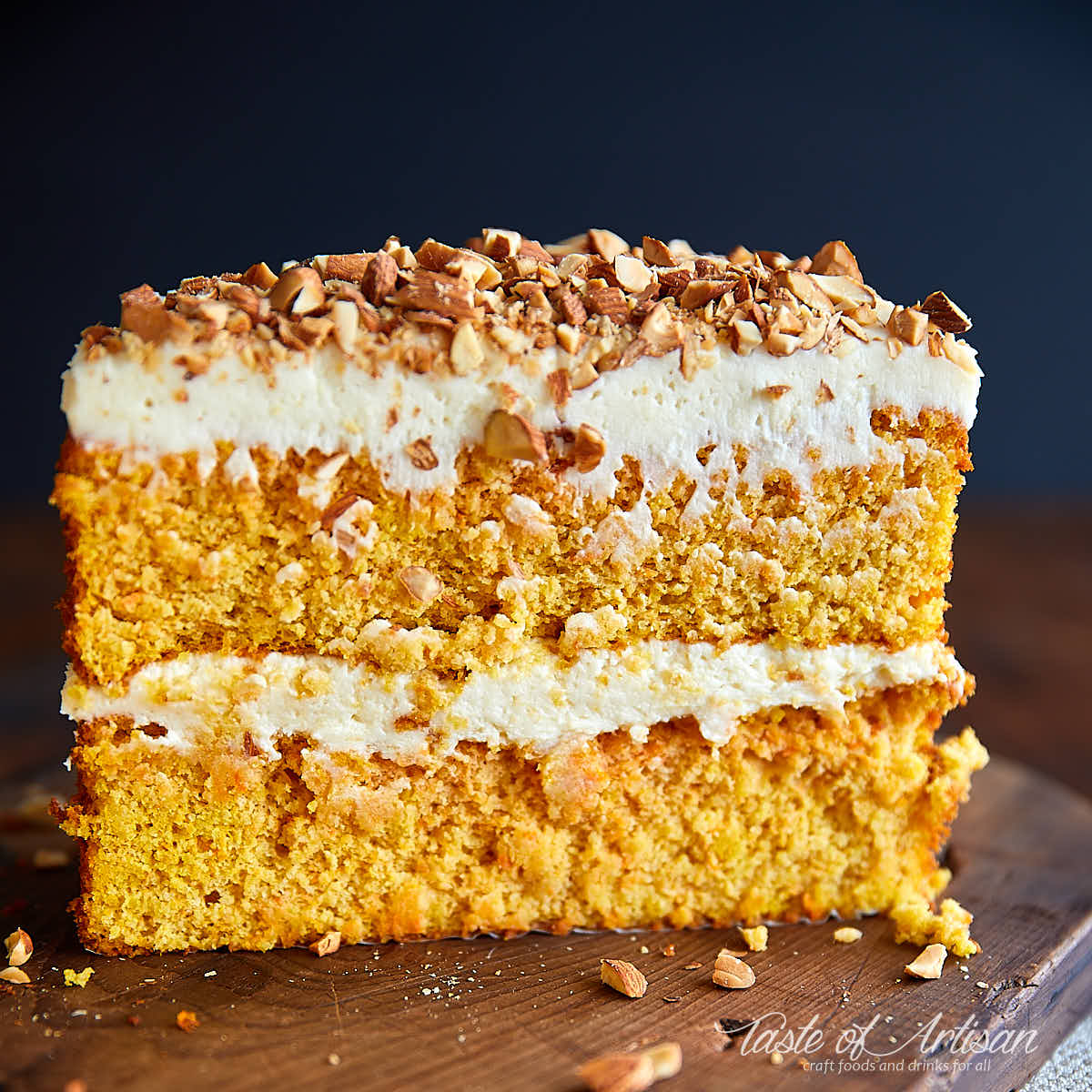 This cake is flourless and hence gluten-free. It uses finely ground almonds as a binding agent instead of flour. The almond flour is what makes it so light and delicate.
If you don't have prepared almond flour, also called almond meal, but have access to blanched almonds you can easily make your own. All you need to do is grind the blanched almonds in a food processor, adding a 1⁄4 cup of sugar to the almonds as you grind them to help absorb the oil released by the nuts and prevent the mixture from caking. The almonds should, ideally, be as fine as granulated sugar after processing.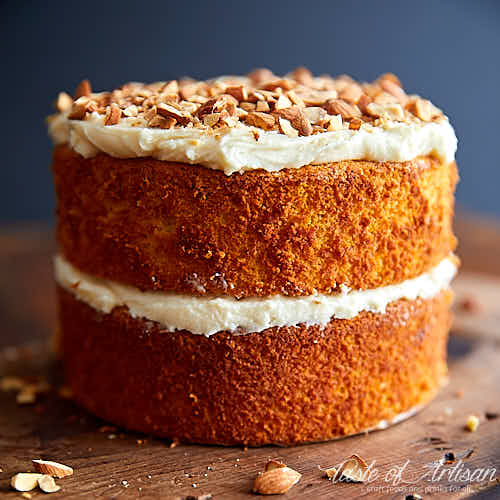 This cake is a great keeper - it can be stored in the refrigerator, well wrapped, for up to 1 week, and in the freezer for much longer.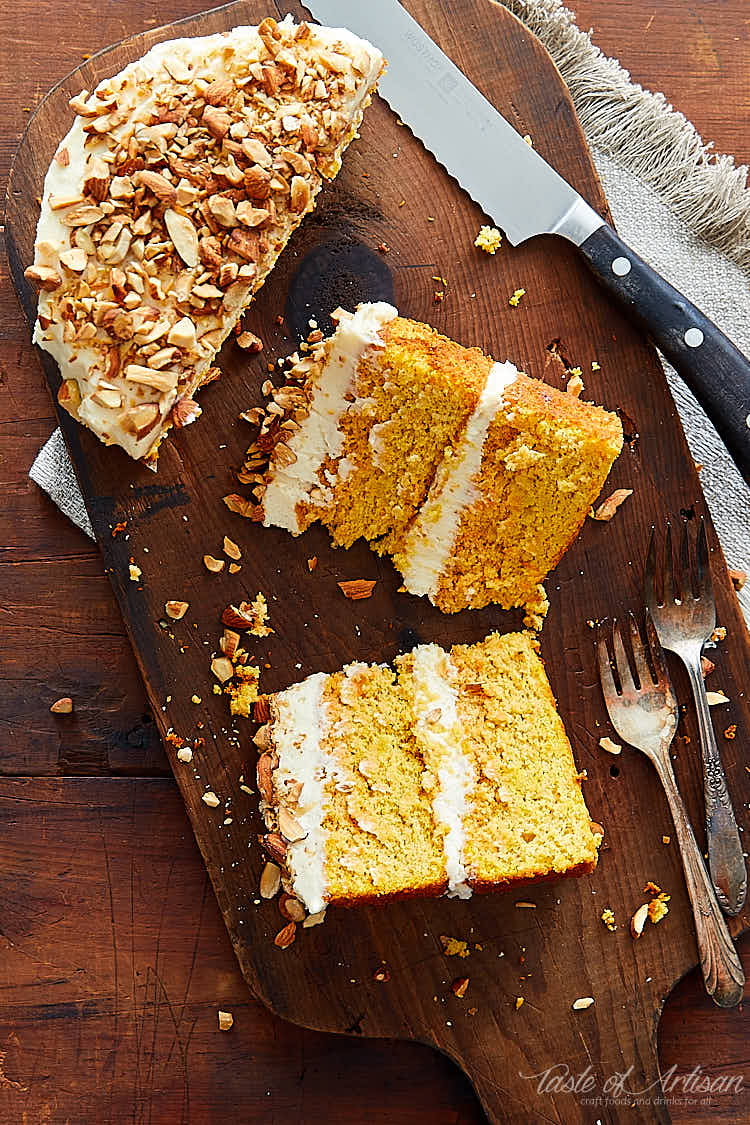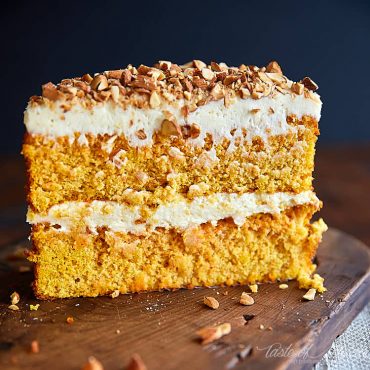 Ingredients
For the egg yolk mixture:
6

egg yolks

2

oz

honey

about 55 grams or 2 Tbsp

6

oz

carrots

peeled and finely grated (about 170 grams)

1

Tbsp

dark rum

about 30 ml

1

tsp

vanilla extract

10

oz

almond meal

about 270 grams
For the egg white mixture:
6

egg whites

5

oz

granulated sugar

about 140 grams
For the cream cheese frosting:
8

oz

cream cheese

softened

2

Tbsp

Heavy cream

or milk; you may need to add a few teaspoons more for softer frosting if you like

4

Tbsp

butter

softened

1

tsp

vanilla extract

1

cup

powdered sugar
For the garnish:
1/2

cup

almonds roasted and coarsely chopped
Instructions
Preheat oven to 375F.

Gather all the ingredients and have them ready to go as you need them.

Line the bottom of the cake pan(s) with parchment paper (see note 1).

In a medium bowl, whip the egg yolks and honey to the ribbon stage. Fold in the carrots (including the juice), rum, and vanilla.

Next fold in the almond flour.

Whip the egg whites to soft peaks, while adding granulated sugar very slowly while whipping.

Carefully fold the egg white mixture into the egg-yolk-carrot mixture.

Pour the batter into the prepared cake pan(s). If using two cake pans, make sure that the batter is divided evenly between the two.

Bake at 375F for 10 minutes.

Without opening the oven, lower the temperature to 350°F and continue baking for about 30 minutes longer, or until a wooden stick comes out clean (see note 2).

Remove the cake(s) from the oven and let cool for 10 to 15 minutes inside the cake pan(s) on a cooling rack at room temperature.

Run a knife around the inside perimeter of the cake pan(s) and remove the cake(s) by inverting them onto a flat surface (cardboard, cutting board, etc). Immediately flip them back right-side up. Let them cool completely.

Meanwhile, prepare the cream cheese frosting by mixing all of the ingredients in a small bowl. I like my cream cheese frosting for this cake to be fairly stiff so I don't add much cream or milk to it, maybe a teaspoon if the cream cheese is too stiff to begin with. It works better for a tall cake to keep the layers together when slicing and plating. For a shorter cake, it doesn't matter so you can make whatever consistency you want for your frosting.

When the cakes are completely cooled, spread half of the cream cheese frosting evenly on top of one of the cakes. Set the other cake on top and gently press down while making a gentle twisting motion left to right. This will ensure that the layers stick together when slicing and serving. Spread the rest of the frosting on top and sprinkle with the chopped roasted almonds.

If making a single layer cake, spread all of the cream cheese frosting evenly on top of the carrot cake, then sprinkle with the almonds.

Cut into the desired number of slices and serve. I find that this cake is fairly rich so it can make 12 servings just fine.
Notes
Note 1 - In this step you have several choices:
You can bake your carrot cake in a single cake pan then serve it plain, dusted with powdered sugar.
Bake in a single pan, and serve as a single layer cake topped with cream cheese frosting. Best to use an 8-10-inch cake pan.
Bake in one layer, then slice horizontally in half. Use an 8-inch cake pan. Ten will be too thin to slice in half evenly.
Bake in two layers, which will be a lot neater. Use 6-8-inch cake pans. I like using 6-inch cake pans - that gives me a taller cake (shown on pictures in the post) that looks extremely cute. You have to be a little careful when slicing it and plating - thin and tall slices don't hold together very well but they look adorable.
Any of the options above is great, it really depends on your preference.
Note 2
Baking times above are good for when baking in a single 10-inch or double 6-inch cake pans. 
You will need decrease baking time to about 20-25 minutes if baking in double 8-inch pans. You will also need to increase the baking time to about 35 minutes or so if baking in a single 8-inch cake pan.
Nutrition
Calories:
421
kcal
|
Carbohydrates:
35
g
|
Protein:
11
g
|
Fat:
28
g
|
Saturated Fat:
9
g
|
Cholesterol:
132
mg
|
Sodium:
135
mg
|
Potassium:
148
mg
|
Fiber:
4
g
|
Sugar:
28
g
|
Vitamin A:
2905
IU
|
Vitamin C:
0.8
mg
|
Calcium:
104
mg
|
Iron:
1.5
mg