These delicious marinated carrots have been a staple in our family for a long time. The recipe is very common in Russia and is known there as 'Korean carrots'.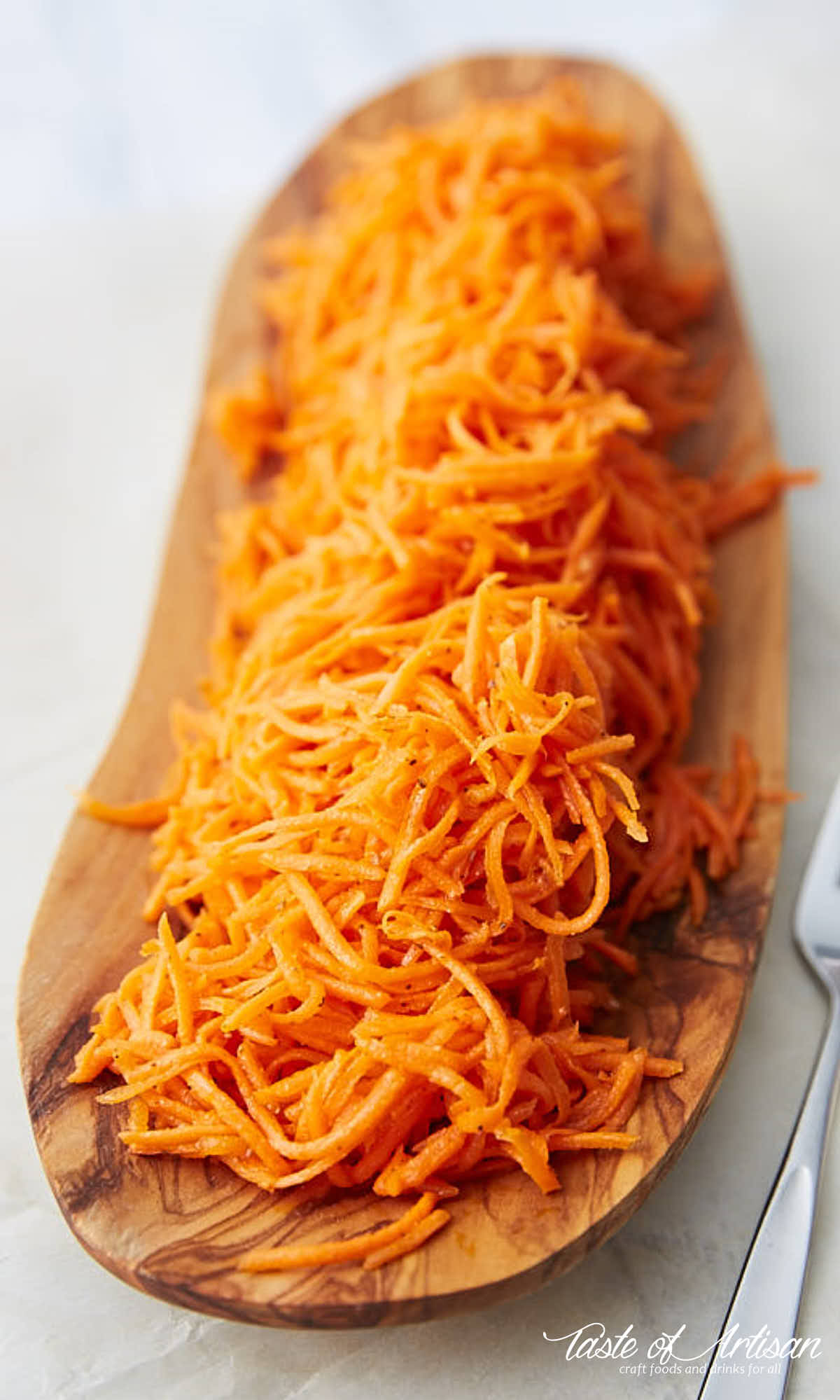 There are dozens of variations of this recipe. The base is recipe consists of seasoned shredded carrots marinated in oil and vinegar. The addition of fresh garlic and ground coriander seeds make the carrots very fragrant and aromatic. Many recipes call for chili powder along with paprika. I like adding cayenne pepper for some kick.
Sugar is commonly added when making marinated carrots, typically 3/4 tablespoon per pound of carrots. Personally, I prefer the unsweetened version and always skip the sugar. If you like the sweeter carrots, add it back in. Both variations taste great, it all comes down to your personal preference.
It may sound as though 2.2 lbs of carrots is a lot. It's not. You will run out quickly. Very quickly. So you better make enough. These carrots are great on their own, as snack or as an appetizer. You can also served them with grilled, roasted or fried meats. You can even add them to sandwiches. These carrots also pair very well with potato dishes, such as mashed potatoes.
You can simply slice the carrots but traditionally they are shredded. I think shredded carrots just taste better. Shredding or grating this many carrots by hand is a chore so use a food processor if possible. It will help tremendously. When shredding carrots make sure you use a grater with fine holes. I use a disk with 1/16 inch (2 mm) holes in my food processor and really like the thickness of the carrots.
These marinated carrots can be consumed as soon as you make them and will taste very good. But if you let them marinate for at least 6 hours they will taste exceptionally good. They will only get better with time and you will keep in a fridge for a couple of weeks without any degradation in taste.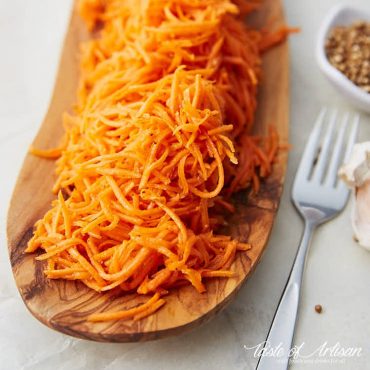 Ingredients
2.2

lbs

carrots

shredded

1

yellow onion

peeled and quatered

5

cloves

garlic

peeled and pressed

1/2

cup

vegetable oil

2

Tbsp

white vinegar

plus more to taste

1

Tbsp

sugar

optional, only if you like sweeter carrots

1

tsp

kosher salt

plus more to taste

1

tsp

sweet paprika

1/2

tsp

cayenne pepper

1/2

tsp

ground coriander seeds

1/2

tsp

black pepper

freshly ground
Instructions
Place the shredded carrots in a large mixing bowl. Add salt, sugar (optionally), paprika, cayenne pepper, ground coriander seeds, pressed garlic, black pepper and vinegar. Mix really well and taste. Adjust for salt and vinegar if needed.

Heat oil in a medium size sauce pan over high heat. Carefully add the quartered onions and cook until outer parts of the onions get golden brown. Remove from the heat and discard the onions.

Pour the hot oil very slowly over the carrots while mixing the carrots with a wooden spoon with a long handle to avoid burning hands. Ideally, have one person gently pour the oil while the other person is mixing the salad.

Transfer the shredded carrots into an air tight container and refrigerate. The carrots will be ready in about 6 hours. Will keep refrigerated for up to 2 weeks.