This zebra cake is decadent. Moist, soft, and airy crumb, not too sweet, complemented by insanely delicious chocolate glaze that is rich, thick, sweet, with a touch of cocoa bitterness. It is this very special chocolate glaze that makes this cake so good. Every bite is pure indulgence.

This zebra cake recipe is the evolution of my marble muffin recipe that I originally created and posted on my old blog called I Food Blogger. As much as I loved those marble muffins, this zebra cake eclipses them. I rarely make them anymore. Instead, I make this zebra cake. Muffins just don't seem to be able to get the same soft, moist, and open texture as the cake does. You can also create a marbled effect to turn this cake into a marble cake if that's what you desire.
I also make this cake in a 6" round cake pan, my new favorite. In this cake pan, cakes come out taller, moister, and more delicious.  In larger pans, they just don't seem to have the same mouthfeel, even if baked perfectly. It's interesting but the shape influences the texture. Bread made with the same dough as my French baguettes tastes quite different, strange as it may seem.
The ingredients
Most zebra cake recipes use milk, this one uses kefir or buttermilk. It makes a huge difference. I especially like kefir - thicker and tastier than buttermilk - as it seems to really lift this cake up, making it soft and airy.
Kefir, or buttermilk, also adds acidity which gives the cake a touch of a tangy taste which is a very welcome addition and brings balance to the cake.
Using good quality cocoa powder and chocolate really makes this cake shine. You can't go wrong with Valrhona, Guittard, Ghirardelli, Callebaut, or Scharffen Berger. Don't get me wrong, this cake will be very good using cheap supermarket chocolate, but good quality chocolate will it make truly special, adding complexity to the flavor.
Equipment
I like how this cake comes out when baked in a  6″ x 3″ round cake pan. It's tall and very soft and moist inside. Similar to my berry cake, I found that an 8″ round pan works but the cake isn't quite as soft and airy inside. It's close but I prefer the texture I get from a 6" pan.
You will also need a couple of medium mixing bowls for the two types of batter and two silicone spatulas to scoop and spread the batter inside the cake pan. Flexible silicone spatulas work best for getting every last bit of cake batter from the walls and the bottom of a mixing bowl.
Making the cake
The batter for this cake should be similar to the pancake batter. Over time it will thicken so work quickly. If it does thicken, it's not a problem. Use the spatula to spread it around in the cake pan.

Separate the batter into two equal parts in two separate bowls. One half will be colored with cocoa powder, the other will be plain.

Grease the can pan with butter. Optionally, line the bottom of the cake with parchment paper but I usually don't as the cake comes out quite easily. Just make sure to butter the pan well.
Using a spatula, scoop about a third of the plain batter and spread it on the bottom of a greased cake pan.

Next, gently spread a third of the cocoa batter on top of the plain batter.

Continue layering the batter until you have 3 layers of plain batter and 3 layers of cocoa batter.

Using a spatial or a spoon, smooth the top of the batter and scrape down the sides of the cake pan.

Bake the cake in a pre-heated oven for about 50 minutes, give or take a few minutes depending on how your oven bakes. Start checking early and pull the cake out of the oven as soon as it's ready. Don't overbake it.

Let the cake cool for about 20 minutes on a cooling rack, then remove it and place it on a serving platter. There is no need to cool it completely. After 20 minutes, it will still be a little warm and that's fine.
Level the top with a sharp knife. This is optional but it makes the cake look more professional. The cut-offs are very tasty so there will undoubtedly be a lot of takers.

Now, make the chocolate glaze. It won't take long so don't start too early. Place the ingredients for the chocolate glaze - chocolate, sugar, milk, butter, and cocoa powder - in a small saucepan. Remember to cut the butter into small pieces to help it melt quicker. Melt the butter and the chocolate over very low heat while constantly stirring. You can do it over a water bath too, which would be a better option if you want the glaze to come out silky-smooth, without any grains.

Quickly apple the chocolate mixture to the cake. The cooler the cake the faster the glaze will set and turn into the tasty ganache. The cooler the glaze becomes the thicker it gets and becomes less runny. Don't wait too long and keep an eye on the glaze to not let it get too thick before applying.
How you apply the chocolate mixture is totally up to you.  You can leave the bulk of the glaze on top and let just a little bit run off on the sides, which creates a dramatic impression. Alternatively, you can spread it evenly around the top and the sides. Reserve a tablespoon or two and drizzle over the top in different patterns at the very end when the glaze is thickening.

Serve right away.

Storing zebra cake
This cake should not be refrigerated as the chocolate glaze will get too hard. Chocolate should never be refrigerated. The cake will keep perfectly fine at room temperature for several days, remaining fresh and tasty. In general, most cakes should be kept at room temperature, unless your kitchen gets too hot or the cake is topped with fresh fruit or whipped cream. This cake isn't one of those.
Just make sure to keep the cake covered, a cake stand with a dome is a good way to do it.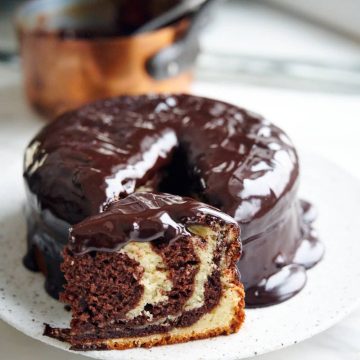 Ingredients
150

g

sugar

100

g

butter

softened

5

ml

vanilla extract

1 tsp

2

eggs

200

ml

kefir

1 cup less 2.5 Tbsp; or buttermilk

10

g

cocoa powder

use good quality cocoa powder

200

g

all purpose flour

plus more as needed

8

g

baking powder

or 1 tsp baking soda
For the chocolate glaze:
50

g

butter

cut into small pieces

45

g

milk

36

g

sugar

15

g

cocoa powder

use good quality cocoa powder

50

g

dark chocolate

use good quality dark chocolate (60-70%)
Instructions
Preheat the oven to 355F (180C).

In a medium bowl, mix butter, sugar, and vanilla extract for about 1 minute. Add eggs and continue mixing until eggs are well incorporated.

Add kefir (or buttermilk) and continue mixing for a little bit more.

Add flour and baking powder and mix until you get a consistent batter without lumps. The batter should have the consistency of pancake batter. Start with 1.5 cups (200 g) of flour first and then add more, one tablespoon at a time, if needed. I usually don't have to.

Divide the batter into two equal parts. Add cocoa powder to one half and mix.

Next, add about 1/3 of the plain batter to the greased cake pan and spread across the bottom, followed by 1/3 of the cocoa batter. Continue layering until you've used up all batter. You should end up with 3 plain and 3 cocoa batter layers. Smooth out the top and scrape down the sides of the cake pan.

Bake for about 50-55 minutes or until a wooden stick comes out mostly clean. Do not over-bake! Start checking early, after about 45 minutes.

Pull the cake out of the oven and let cool on a cooling rack for 20 minutes.

Once the cake has cooled down, quickly prepare the glaze. In a medium saucepan, mix milk, butter, sugar, chocolate, and cocoa powder. Slowly heat the mixture over very low heat, constantly stirring, letting the chocolate and the butter fully melt, and until the chocolate mixture is silky smooth. That should take about a minute or two. Set aside and let cool slightly.

Spread the glaze over the cooled-down cake and let it set for about 10 minutes before slicing the cake and serving.
Nutrition
Calories:
397
kcal
|
Carbohydrates:
49
g
|
Protein:
6
g
|
Fat:
21
g
|
Saturated Fat:
12
g
|
Polyunsaturated Fat:
1
g
|
Monounsaturated Fat:
6
g
|
Trans Fat:
1
g
|
Cholesterol:
85
mg
|
Sodium:
182
mg
|
Potassium:
282
mg
|
Fiber:
2
g
|
Sugar:
26
g
|
Vitamin A:
581
IU
|
Calcium:
102
mg
|
Iron:
3
mg