These brownies are soft on the inside, with a chewy, candy-like surface on top. They are not overly sweet and have a distinct, though not overpowering, bittersweet taste. They are delicious and highly addictive.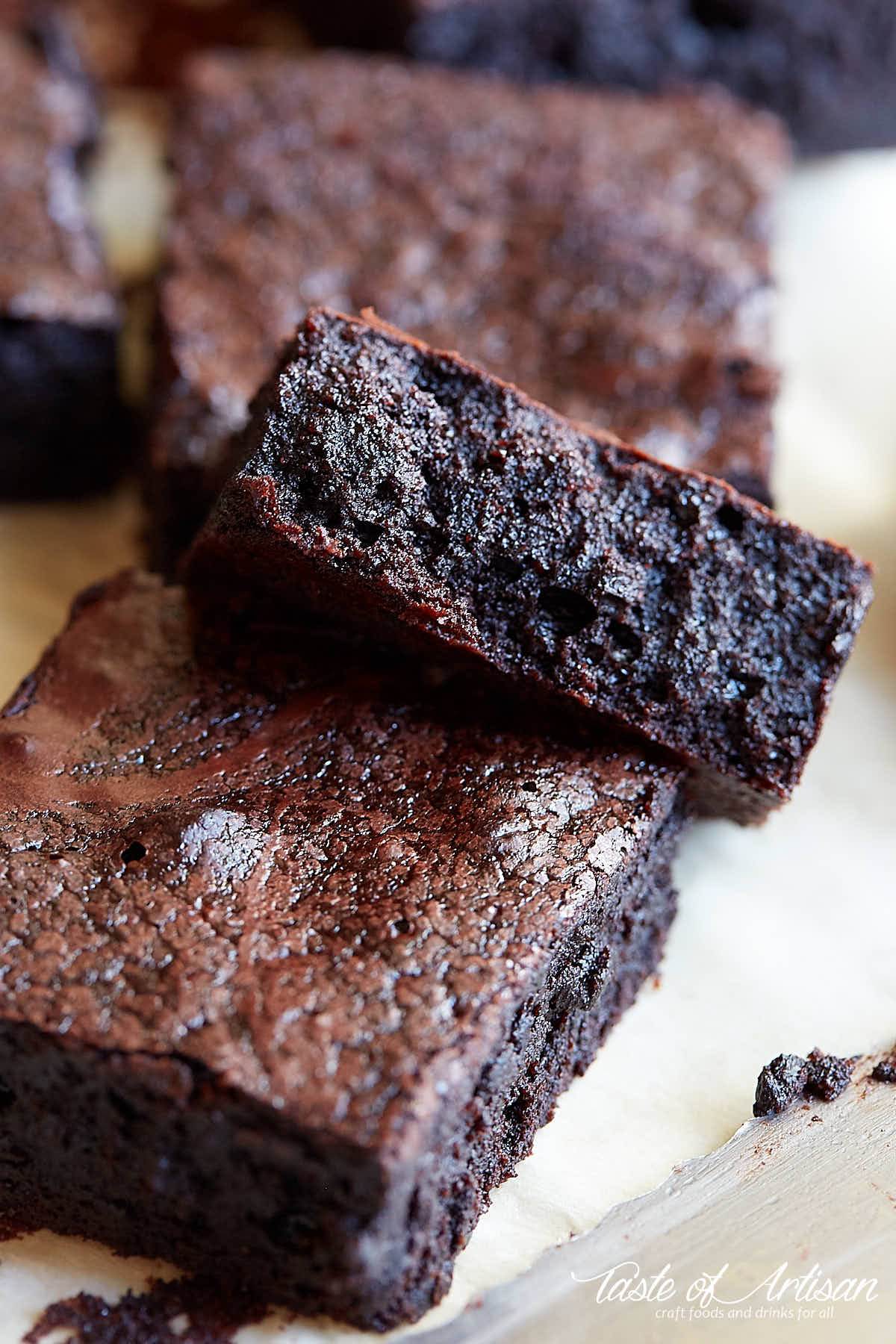 There are desserts that appeal to some people but not others. Then there are desserts that no one can resist. These brownies are a good example of those. My wife, who is partial to brownies, ate one. Then another one. And another one. They are irresistible.
Tastes differ and everyone has their own idea about what a perfect brownie should be. However, most seem to agree that a moist, chewy, and not overly sweet brownie is what they would prefer. Traditional, overly sweet, brownies seem to be the thing of the past.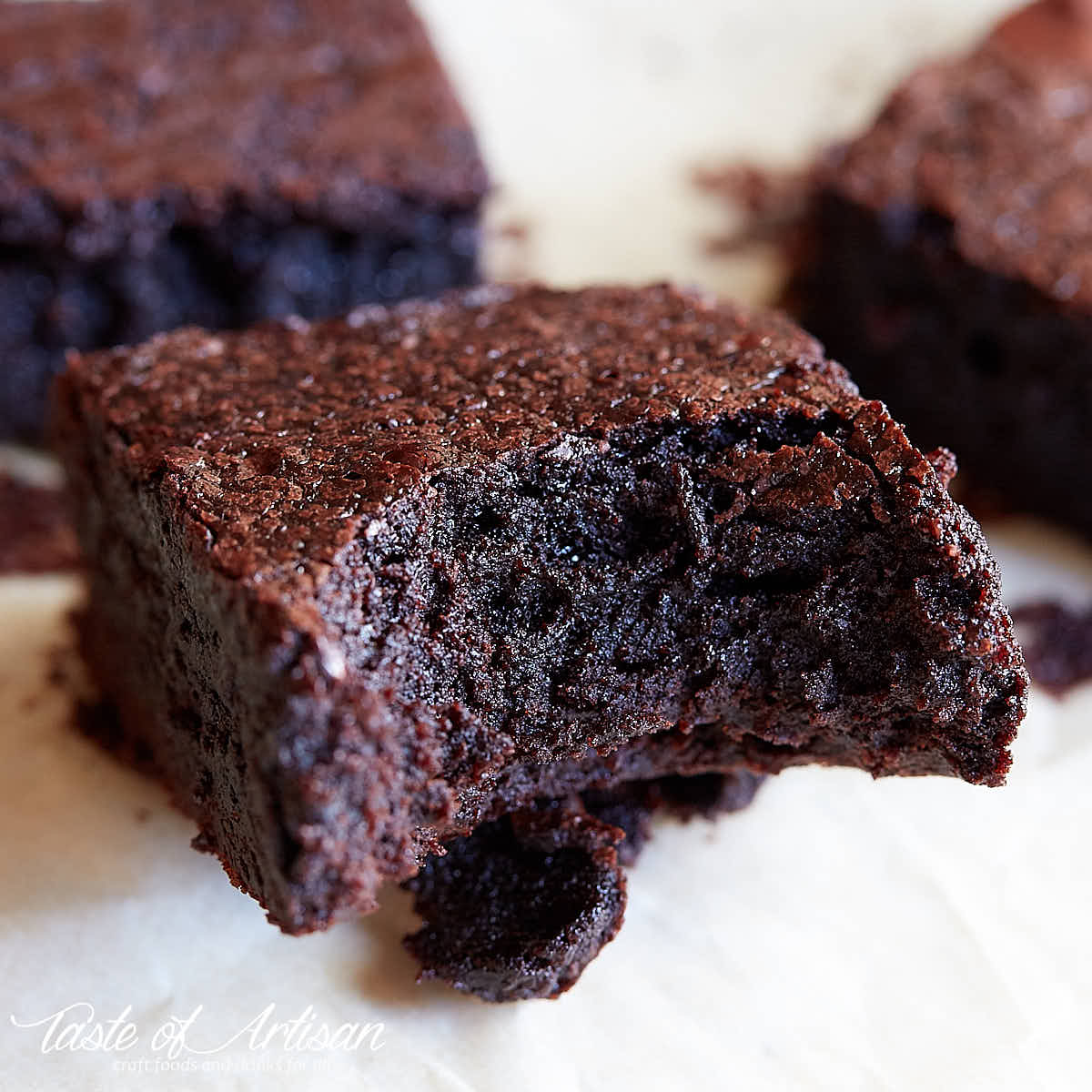 A note on cocoa powder
These are cocoa brownies. There is no chocolate in them. They may be the  best cocoa brownies out there, and many I am sure would agree that they are, but if you use poor quality cocoa powder these brownies won't taste good. So, use a high quality cocoa powder.
How to tell if cocoa is of high quality? It should have a fat content of between 22% and 24%, twice the amount of typical cocoa you will find at a grocery store. This translates into 1 gram of fat per 5-6 grams of cocoa.
My favorite one is Valrhona Dutch-process cocoa. I started using it based on David Lebovitz's recommendation in one of his books and never looked back. It's a little more expensive than most other brands but it rewards you with superb flavor complexity and refined taste. It's also darker and richer, which is perfect for brownies.
You can also use natural cocoa which produces brownies with a lighter color and lot's of tart, fruity notes. Dutch-process cocoa is mellower and less bitter. I personally prefer it over natural process cocoa.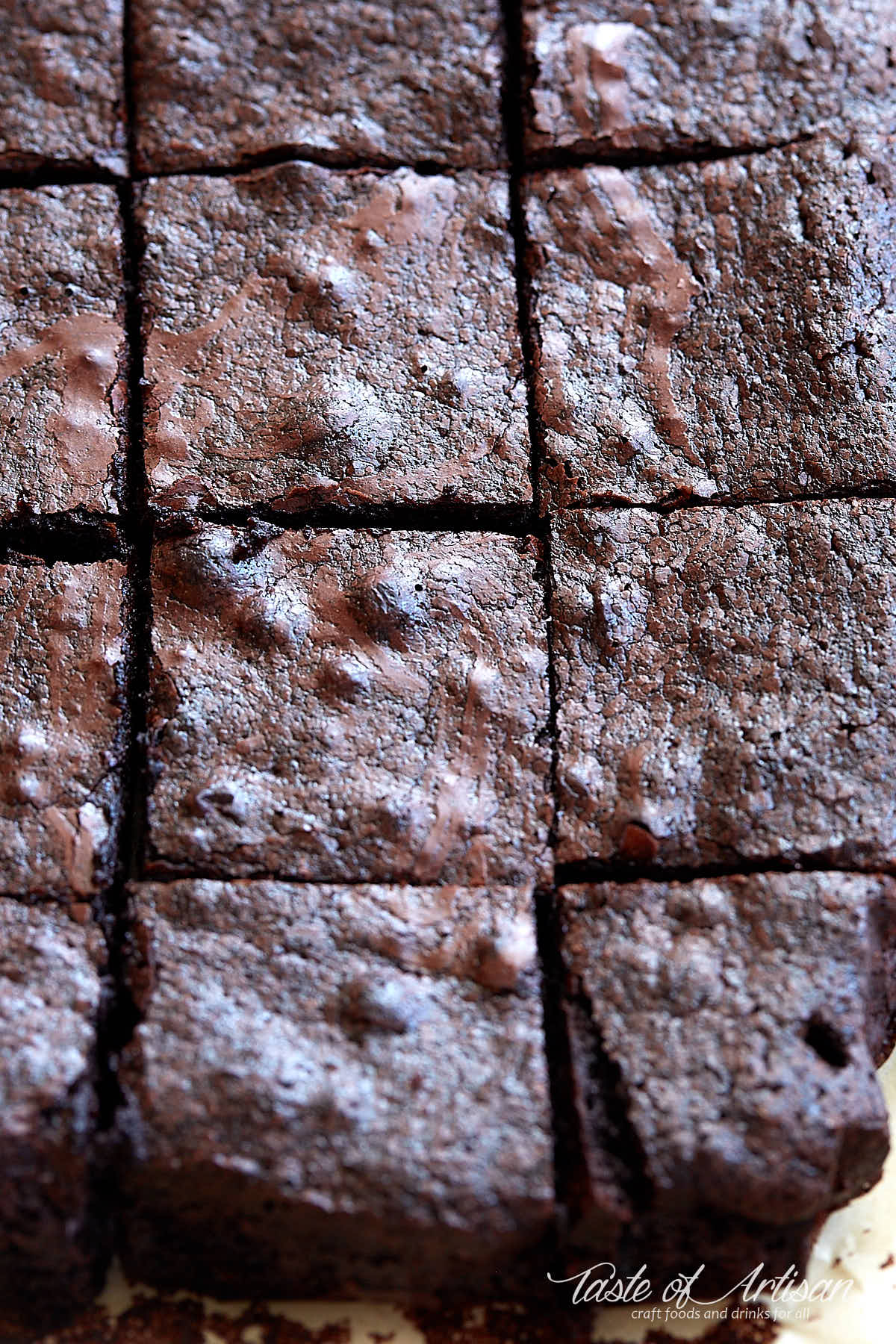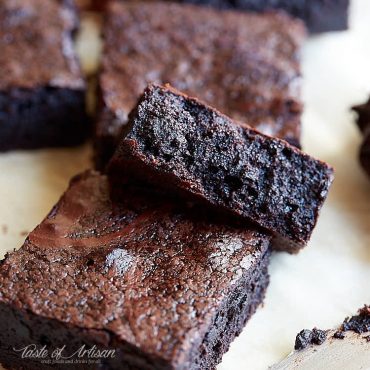 Flourless Brownies (Gluten-Free)
This recipe is an adaptation with conversion to gluten-free from Alice Medrich's 'Seriously Bitter Sweet: The Ultimate Dessert Maker's Guide to Chocolate' book.
Print
Pin
Rate
Ingredients
10

Tbsp

unsalted butter

about 140 g

1¼

cups

granulated white sugar

about 250 g

¾

cup

plus 2 tablespoons high quality unsweetened cocoa powder

about 80 g

¼

tsp

salt

½

tsp

pure vanilla extract

2

eggs

large, cold

½

cup

almond flour

about 65 g

⅔

cup

walnut or pecan pieces

about 65 g, optional
Instructions
Preheat the oven to 325F.

Line a 9 x 9 inch baking pan with parchment paper or foil, leaving some paper hang outside the pan. This will help with removing the fudge once it's baked.

Melt the butter in a medium heatproof bowl set in a wide skillet of simmering water. Add the sugar, cocoa powder, and salt and heat for about 5-7 minutes, stirring occasionally, until the temperature of the mixture reaches 120-122F – the temperature at which if you insert your finger you would want to immediately pull it out. Remove the bowl from the skillet and set aside for about 5 minutes to cool down, until the mixture is no longer hot to touch.

Using a wooden spoon, stir in the vanilla. Then add the eggs, one at a time, stirring vigorously after each one. Continue stirring until the mixture will look thick, shiny, and well blended. Add the almond flour and stir until it is well incorporated.

Using the same wooden spoon, beat the mixture vigorously for 50 to 60 strokes. Stir in the nuts, if using.

Transfer the mixture into the line baking pan and spread evenly.

Bake on the lower rack for 20-25 minutes, until a toothpick inserted into the center comes out slightly moist with batter. Remove the brownie from the oven and let completely cool on a cooling rack.

Remove the brownie from the pan by lifting up the ends of the parchment paper or foil. Transfer to a cutting board and cut into 16 pieces. Serve immediately.
Notes
For a regular version, substitute almond flour for all-purpose flour in a 1:1 ratio.
Nutrition
Calories:
206
kcal
|
Carbohydrates:
21
g
|
Protein:
3
g
|
Fat:
14
g
|
Saturated Fat:
6
g
|
Cholesterol:
42
mg
|
Sodium:
49
mg
|
Potassium:
97
mg
|
Fiber:
2
g
|
Sugar:
17
g
|
Vitamin A:
270
IU
|
Vitamin C:
0.1
mg
|
Calcium:
24
mg
|
Iron:
1
mg